Magic the Gathering
Modern Charity Event. Cash prizes!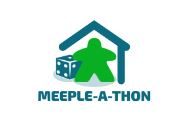 About this event
Game: Magic the Gathering
Format: Modern
Entry: $40. Includes event entry and Meeple-a-Thon 1-day badge. There will be many side events hosted by other organizers and vendors and by us. Meeple-a-Thon is a 3-day Friday-Sunday charity convention. Find out more here; https://meepleathon.com. More events and vendor details to be posted as we get closer to the day.
If you would like to reserve your spot, but want to bypass the Eventbrite fee, you can pay at the door, however, it would help with our preparations if you pre-register on the MTG companion app using code: D2RM6P
Rounds: Based on the number of entrants (expect ~5). Top 8 cut.
Prizes:
At least 10% of the proceeds will go to the Hillcrest Platte County Young Adult Housing program.
Cash to the top 8 that will scale based on attendance. Other prizes such as raffles and giveaways to non-top eight slots. Wizards of the Coast has currently donated six secret lair drops and 2 Streets of Capenna Set Booster boxes to our raffle.
At 40 participants are guaranteed $1,000 in cash prizes.
1st $400
2nd $200
3rd-4th $100
5th-8th $50
Judges will be on site.
This event is taking place at Meeple-a-thon located at 7100 NW Prairie View Road, Kansas City, MO 64151. Doors open at 9:00 am Registration ends at 10. Pairings at 10:30 am.
Side events we are planning:
1. Fire on demand cEDH pods
2. Fire on demand drafts; a variety of sets offered.
About the event organizer: The Geekery is a brick-and-mortar game store that opened in 2014. We have a long history of running impeccable events such as modern 1ks, Dual land cEDH tournaments, PPTQs (back in the day), and more. For more info: https://www.facebook.com/Geekery.Shawnee
About the charity and the venue: https://meepleathon.com/
The Geekery will be on site as a vendor, if you need a card for the event, please call or message us to confirm it will be available.
Send questions, comments, and concerns to geekeryshawnee@gmail.com or (913)261-9694.